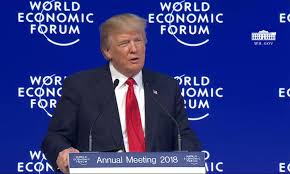 It was reported that US President Trump, who attended the General Annual Meeting of the World Economic Forum (Davos Conference) on January 21, announced his support in a forest conservation project in his remarks.
Davos: Greta Thunberg & Donald Trump clash on climate change
I was interested in what was discussed in Davos 2020 and gathered information.
Trump pledged the US will join One Trillion Trees Initiative which was officially launched on the following day at the World Economic Forum. The initiative aims to unite and promote reforestation public and private efforts worldwide.
Read full remarks here → (Remarks by President Trump at the World Economic Forum | Davos, Switzerland White House website)
(After pointing for a while about the economic achievements during his presidency thus far.)

At the same time, I'm proud to report the United States has among the cleanest air and drinking water on Earth — and we're going to keep it that way.  And we just came out with a report that, at this moment, it's the cleanest it's been in the last 40 years.  We're committed to conserving the majesty of God's creation and the natural beauty of our world.
Today, I'm pleased to announce the United States will join One Trillion Trees Initiative being launched here at the World Economic Forum.  One Trillion Trees.  (Applause.)  And in doing so, we will continue to show strong leadership in restoring, growing, and better managing our trees and our forests.
This is not a time for pessimism; this is a time for optimism.  Fear and doubt is not a good thought process because this is a time for tremendous hope and joy and optimism and action.

(But then, he moved on to criticism against people who call for immediate actions to avoid the climate apocalypse, by calling them the perennial prophets of doom.)
Let me introduce an useful page that summarized his pledge (Trump's Trillion Trees Promise at the World Economic Forum)
If you are interested in this initiatve, please have a look. It is an easy-to-understand page which includes official information and academic references as follows;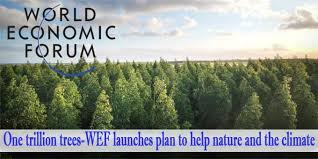 One trillion trees - World Economic Forum launches plan to help nature and the climate
Planting 1.2 trillion trees could neutralize CO2 emissions, says ecologist((WEF's website – Rational of 1 trillion trees - there is enough room to plant another 1.2 trillion trees on Earth)
The global tree restoration potential(Science Journals)( Bastin et al. 2019 - One trillion trees planting could lead the potential to store an equivalent of 25% of the current atmospheric carbon pool))
U.S. Forest Resource Facts and Historical Trends( The estimated area of US forest land was originally about 46% of the total land area. In 2012 it decreased to 33%.)
Amazon Deforestation in Brazil Rose Sharply on Bolsonaro's Watch(New York Times)
Global land change from 1982 to 2016(Nature Research – Song et al. 2018 - Contrary to the prevailing view that forest area has declined globally—tree cover has increased by...+7.1% relative to the 1982 level)
As the dynamics of land use around the world has been clarified, we came to realize that there is high likely sufficient room for restoration of forests. It seems it is the background of the vast majority supported forest restoration initiative at the World Economic Forum.
How will the Trump Administration commit?
Immediately after Davos, wasn't President Trump outlining forest policy in his State of the Union Address on February 4?
And I sent the Congress a plan with a vision to further expand access to high-quality childcare and urge you to act immediatly.



To protect the environment, days ago, I announced that the United States will join the One Trillion Trees Initiative, an ambitious effort to bring together Government and the private sector to plant new trees in America and around the world.



We must also rebuild America's infrastructure.

I ask you to pass Senator Barrasso's highway bill -- to invest in new roads, bridges, and tunnels across our land.



He did address! Three lines in the total 600 lines speech.
It's still unclear what kind of strategy the World Economic Forum is going to propose, but a website called 1t.org, a platform for one trillion tree community created by the World Economic Forum with UENEP and FAO, was launched. I signed up to stay informed. Why not have a try, everyone?
I will follow this information in the future.

<davosforeste>